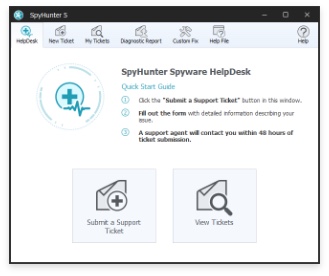 Cybercriminals and hackers constantly update and alter malware to avoid detection by anti-malware utilities like SpyHunter. To proactively combat ever-evolving malware and other threats and issues, SpyHunter's malware detection databases are frequently updated. SpyHunter also connects to our cloud servers for additional malware identification capabilities.
Unlike some other anti-malware solutions, SpyHunter and its Spyware HelpDesk are committed to going to extra lengths in working with subscribers to assist in removing stubborn malware and addressing other system issues. Subscribers can generate and submit a Diagnostic Report, which can be transmitted directly to our technical support team.
One of our technicians will review your Diagnostic Report and generate a unique fix designed to address your system's individual issues. Fixes are transmitted directly to SpyHunter, which can then execute them using its built-in advanced removal engine. The process is very user-friendly. When a fix is received by SpyHunter, you will receive a notification that it is ready to be applied. Applying the fix is as simple as clicking the "Apply Fix" button. SpyHunter will take care of the rest.
Our Spyware HelpDesk Support Center offers optional one-on-one customer care, included with your subscription at no extra charge.
If neither SpyHunter nor the Spyware HelpDesk custom fix is able to resolve a subscriber's issue, subscribers have the option to have our customer support technicians contact them by phone. Our technicians can conduct a remote control session on the subscriber's PC to assist with unresolved issues.